All courses are affiliated to
Tamil Nadu Dr. M.G. R Medical University
Growing need for Optometrists
One person goes blind, somewhere in the world, every 5 seconds. According to the World Health Organization, 87% of visually impaired people live in developing countries, while 85% of all visual impairment is avoidable. India has the dubious distinction of having the largest number of blind people in the world.
Optometrists are the first line of defence against potentially blinding diseases. An optometrist is a primary health care professional who is institutionally educated and clinically trained in the field of optometry. An optometrist checks eyes, prescribes optical aids, diagnoses ocular diseases, provides vision therapy and refers to an ophthalmologist for medical treatment. The demand for qualified optometrists is growing by the day.
Why choose Vasan Institute?
Established under Vasan Eye Care Hospitals, the world's largest eye care network, Vasan Institute aims to provide opportunities for students to achieve a promising career in the field of eye care with the most advanced methods and facilities.
The institute facilitates top notch infrastructure and facilities that are on par with international standards. Efficient and experienced faculty is the main strength of the institute. Industrial visits, interaction seminars and conferences which are added in the curriculum make education more meaningful and relevant.
Join
Vasan Institute of Ophthalmology and Research
Affiliated to
The Tamil Nadu Dr. M.G.R Medical University
A perfect place to have holistic education combined with real experience
Tamil Nadu Dr. M.G. R Medical University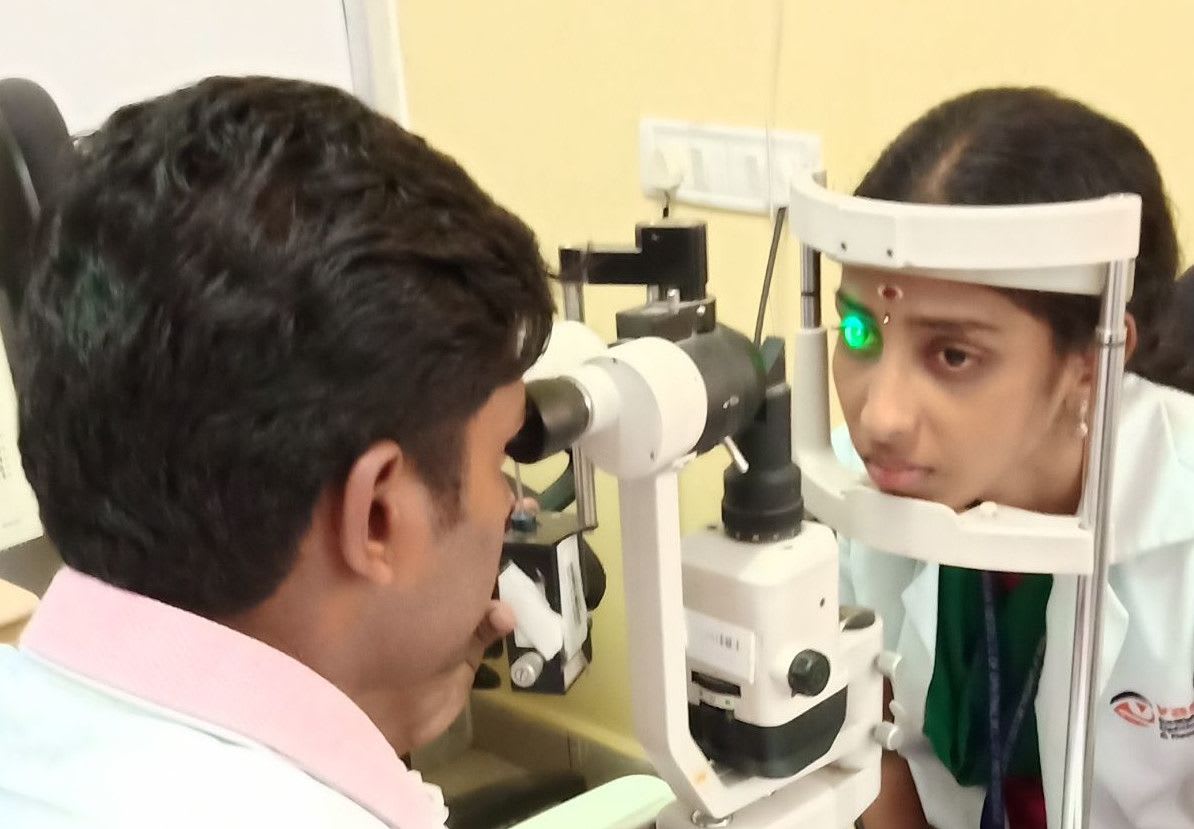 "Optometry is a health care profession that is autonomous and optometrists are primary health care practitioners of the eye and visual system who provide comprehensive eye and vision care, which includes refraction and dispensing, detection/diagnosis and co-management of disease in the eye and the rehabilitation of conditions of the visual system"
– Common Minimum Optometry Curriculum
Testimonial

In my journey towards the bachelor degree, VIOR had made a strong recognition wherever I have been to. Words are not enough to sum up my experience but it was the right decision of my life  to choose optometry here! I am very grateful to all the lecturers who have been our mentors not only through the course but for life! The most unique part of VIOR according to me is the practical guidance which a thousand books can't replace!

"Whenever I knocked the door with any kind of idea, there were set of hands always ready to guide me. The huge collection of books and the best journals in the library helped me to extend my knowledge in the field of optometry. Postings in the hospital, even in specialities from the first year of my bachelor's program gave me the confidence in handling patients. I have been encouraged right from the beginning by my distinguished faculty at VIOR. If anyone is interested to learn, then VIOR would be the best choice that we could choose."

I am very grateful for the opportunity Vasan institute of ophthalmology and research has given me to discover my knowledge, hidden skills and gain experience. I am happy and my dream has come true of being an optometrist..